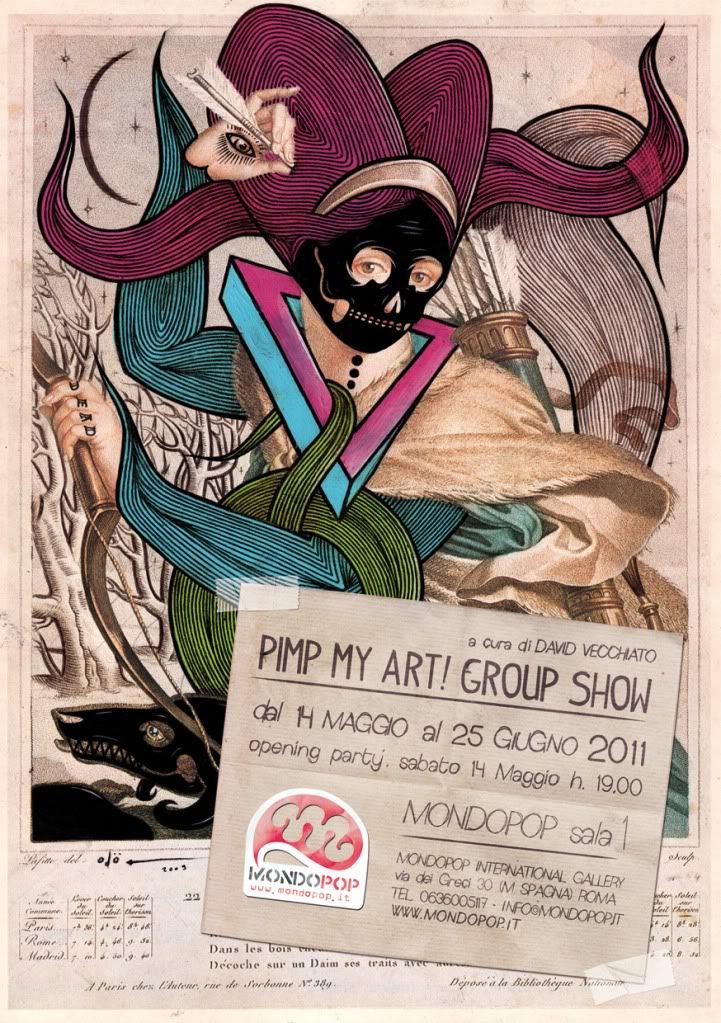 I take part this month of the new
Mondo Pop
's group show :
"Pimp my art"
!!
With the art of: 
Nicola Alessandrini, Cesko, Alberto Corradi, David Diavù Vecchiato, Marco Rea, Ian Stevenson, Odö


Opening night the 14 may 2011!!

From May 14 to June 25, 2011 at MondoPOP International Art Gallery in Rome there will be an exhibition on the theme collective experimental: 
Pimp my Art!


The artists of the Pop Surrealist and New Contemporary Art will present their new works created by modifying and customizing existing works of art,
 from photographs to postcards, from flea market paintings to vintage prints.

The typical practice in Pop art to transform the ordinary object is enhanced in this experiment to make art on art,
as an ideal fusion between past and a contemporary mark.


Pimp My Art is introducing a new collective project MondoPOP:
customize, reinvent and renew on commission paintings and works that we do not want to see anymore as they are.
Works that each of us has at home can be reinterpreted with a custom "signed" New Art.


Images that take new life with the interpretation of artists from different hands and unmistakable style that has its roots, depending on the artist, 
in Pop Surrealism, Lowbrow, Urban Art, Street Art
.
An exhibition of art that becomes a service agency to offer to fans and collectors in order to look with a new eye at works of art that already belong to us.
Facebook page HERE
Some artworks preview below!!