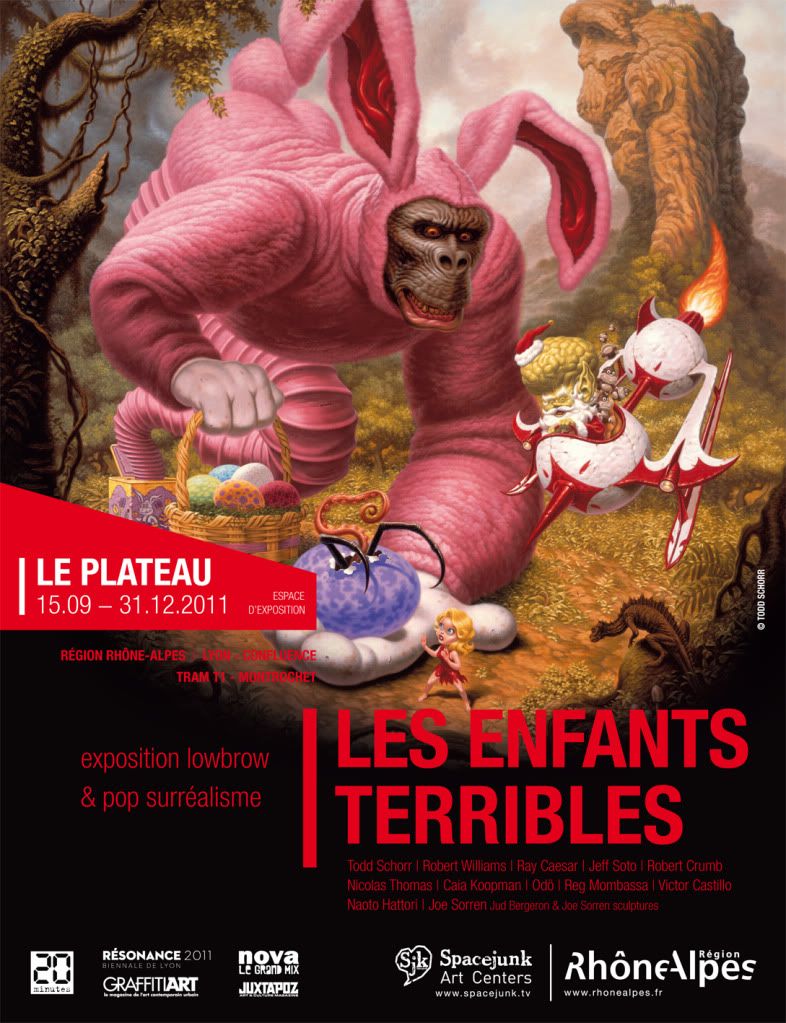 Back to the blog.
I take part this month to a huge show!!
With the
Biennale de Lyon
&
Spacejunk art centers
.
Les Enfants Terribles
Exposition du 17 septembre au 31 décembre 2011
With the art of : Todd Schorr (USA) – Caia Koopman (USA) – Odö (France) – Reg Mombassa (Australie) – Jeff Soto (USA) – Nicolas Thomas (France) – Naoto Hattori (Japon) – Victor Castillo (Chili) – Ray Caesar (UK – Can) – Robert Crumb (USA) – Robert Williams (USA) – Joe Sorren (USA).

VERNISSAGE on Saturday 17th September, 2011
LE PLATEAU
Espace d'exposition du Conseil régional Rhône-Alpes
1, Esplanade François Mitterrand, Lyon 2e
More info here :
http://lesenfantsterribles.spacejunk.tv/
fr>
De tous temps, le monde de l'art a eu ses enfants terribles qui, par leur travail, bousculent les académismes tout comme les modes de diffusion et de légitimation établis. Une chose est certaine, ils ne laissent jamais indifférents. Cette exposition vient apporter un éclairage sur deux mouvements artistiques qui, s'ils viennent des Etats-Unis, jouissent aujourd'hui d'une reconnaissance et de réseaux planétaires : le « Lowbrow » et le « Pop Surréalisme ». Deux mouvements qui n'ont cessé de se croiser et de s'entrechoquer depuis les années 70, portés à coup sûr par des « enfants terribles » du monde de l'art.
La connaissance de leur travail s'est propagée mondialement grâce à des supports inattendus comme les pochettes de disque, les affiches de concert, les planches de skate et de snowboard, et certaines marques de vêtements de sport. A l'instar des millions de fans du groupe Guns N'Roses qui découvraient pour la première fois le travail de Robert Williams en 1987 grâce au disque « Appetite for destruction », un des albums de hard rock les plus vendus sur la planète (plus de 30 millions d'exemplaires), nombre de jeunes skaters des pays occidentaux ont découvert, fascinés, les décors des skateboards américains.
Nicolas Thomas, artiste français, se souvient : « J'allais dans les skate- shop comme au musée ». L'expression graphique de ces cultures se diffusait alors d'une manière aléatoire au gré des supports sur lesquels elle se trouvait fixée, le travail des artistes voyageant vers leur public, contrairement au « street-art » dont les réalisations murales rencontrent le public qui vient à elles.
Produite en partenariat avec la Région Rhône Alpes, cette exposition inédite prendra place sur « Le Plateau », espace dédié au cœur de son nouveau bâtiment, conçu par l'architecte Christian de Portzamparc. Avec 12 artistes venus de quatre continents, « Les enfants terribles » est un des événements « focus » de la Biennale d'Art Contemporain de Lyon.

uk>
Throughout time, the art world has seen its share of "enfants terribles" whose work questions academic standards and disrupts the established channels of distribution and ways of acquiring legitimacy. On any occasion, they never fail to provoke a reaction. This exhibition sheds light on two artistic movements which, although originally from the United States, today, enjoy worldwide recognition and a global following: "Lowbrow" and "Pop Surrealism". Two movements which have been intersecting and colliding since the 70s, led by what you could surely call some of the art world's "enfants terribles".
Drawing their inspiration from comic books, cartoons, Kustom Kulture and, more recently, from the world of tattoos, skateboarding and alternative music, these artists confront us with our own cultural references, which are assimilated and forcefully depicted. Their work has become known worldwide. Thanks to the use of unexpected ways of showing art and new mediums such as album covers, concert posters, skate and snowboard decks and some sportswear brands.
Facebook event HERE.